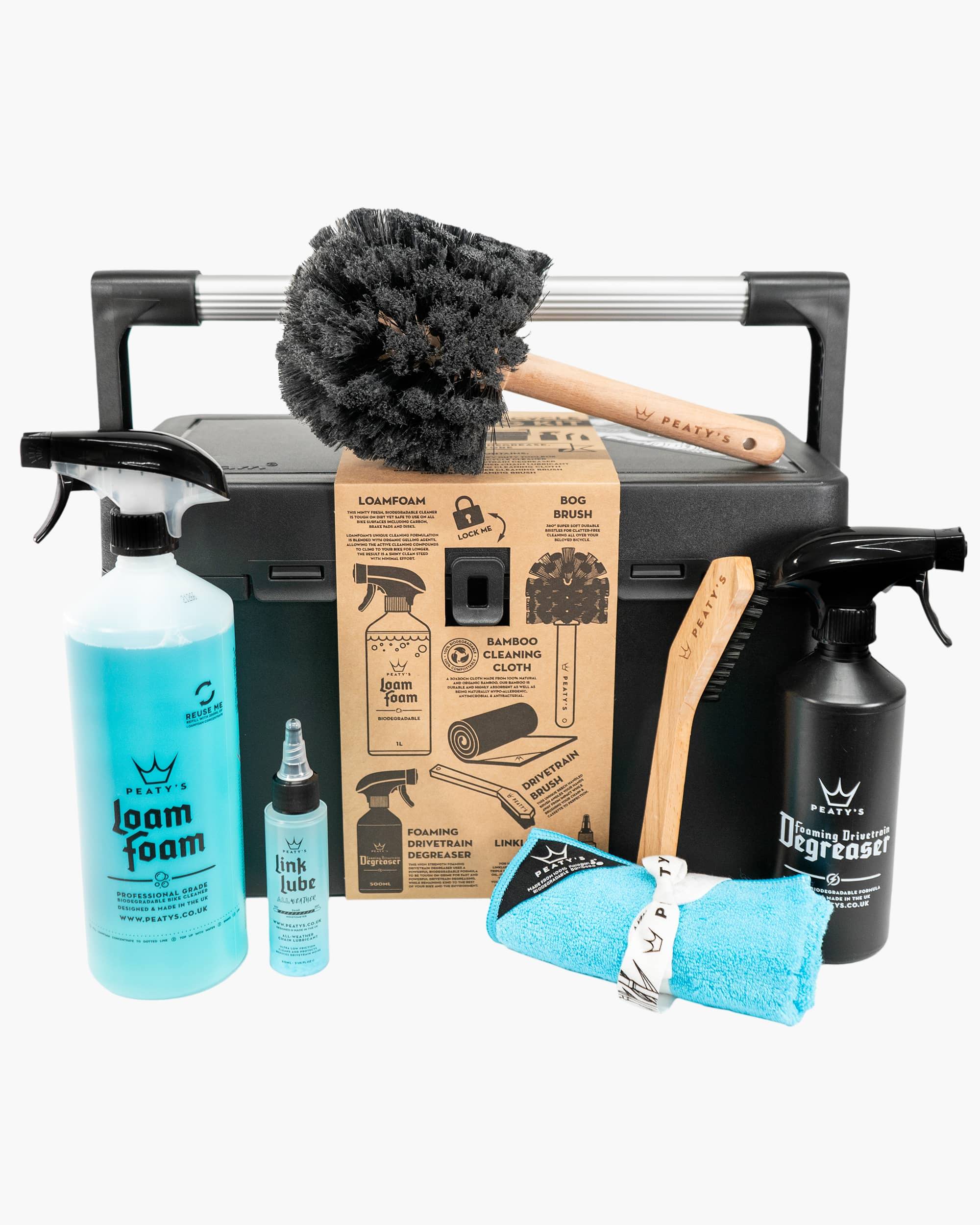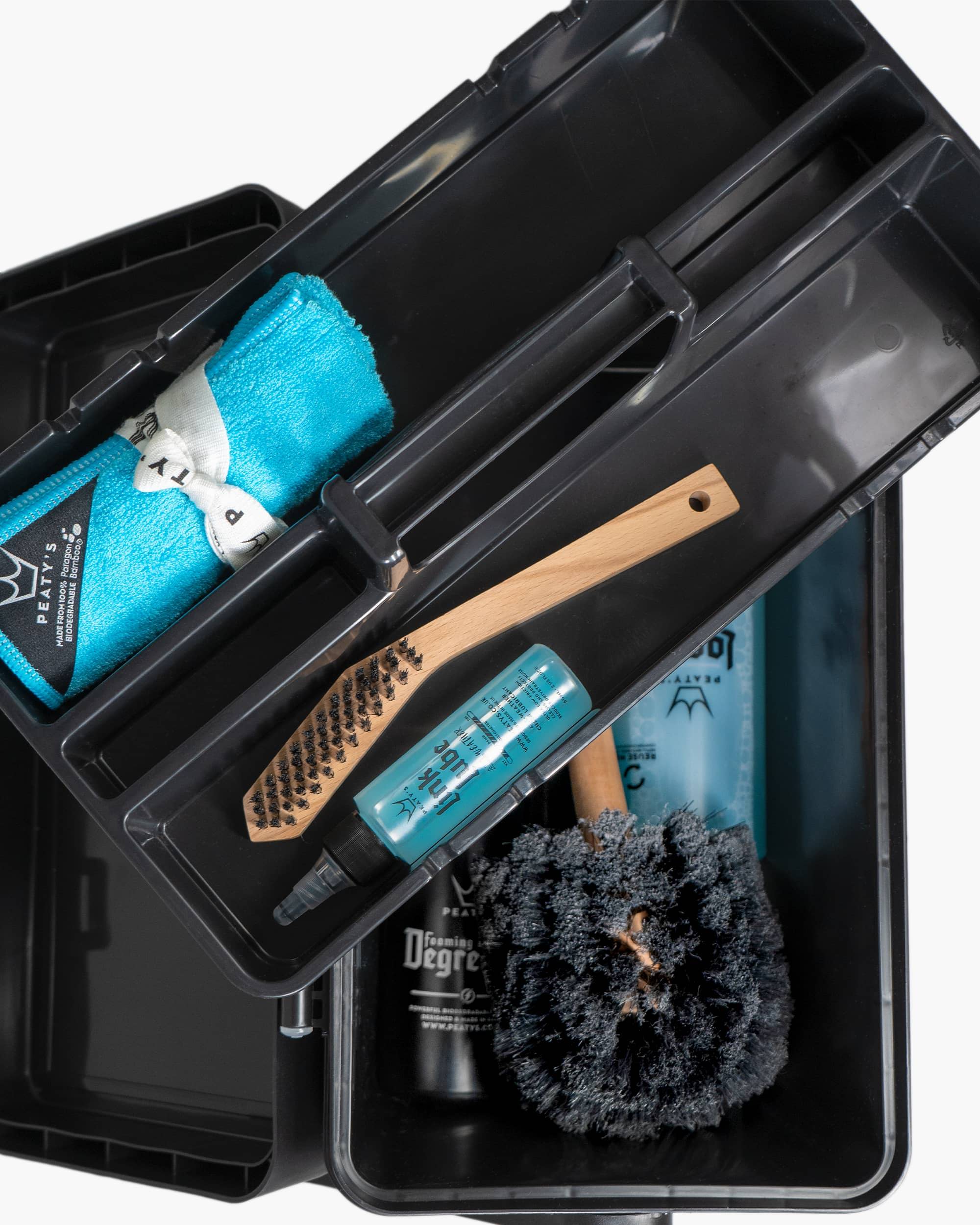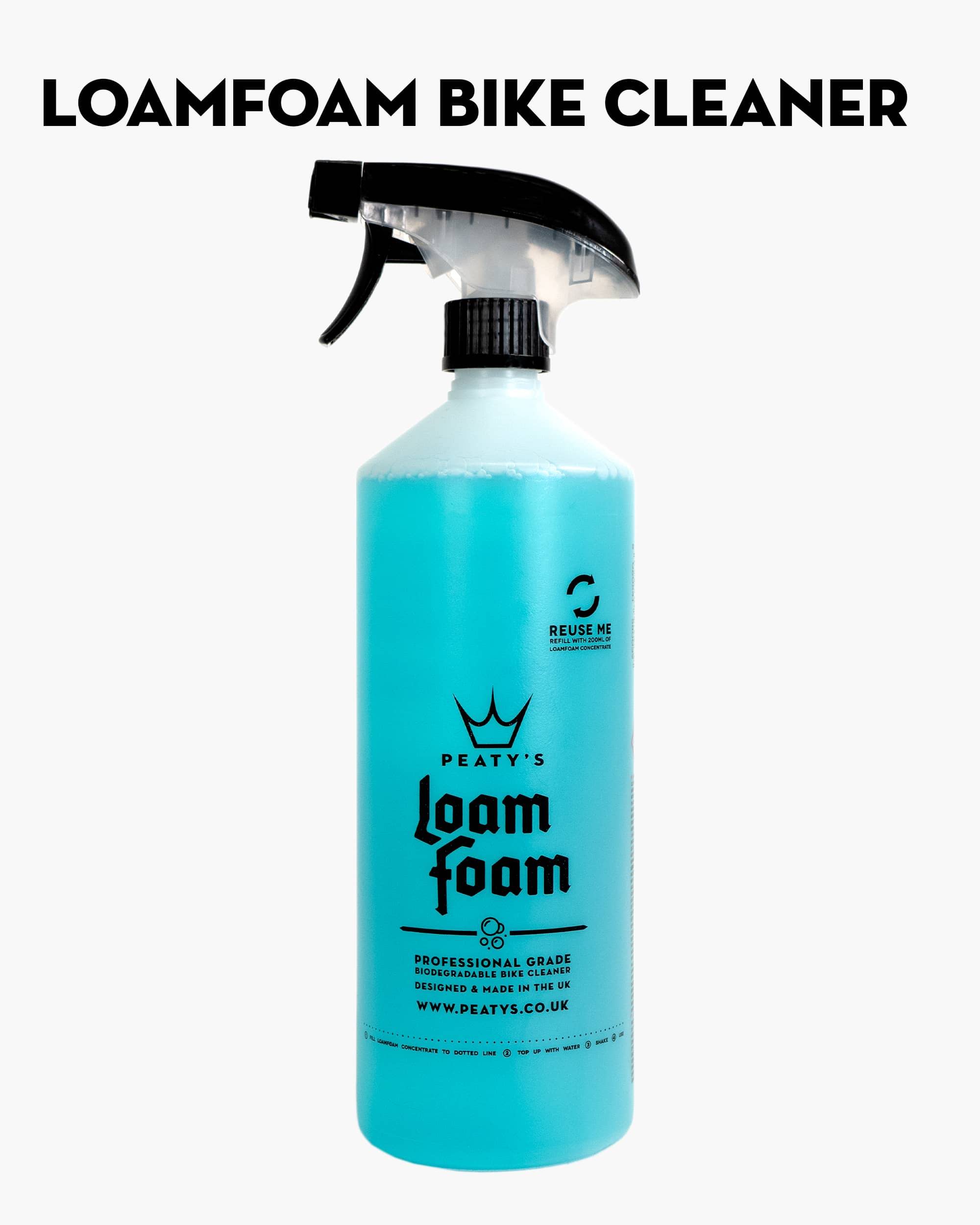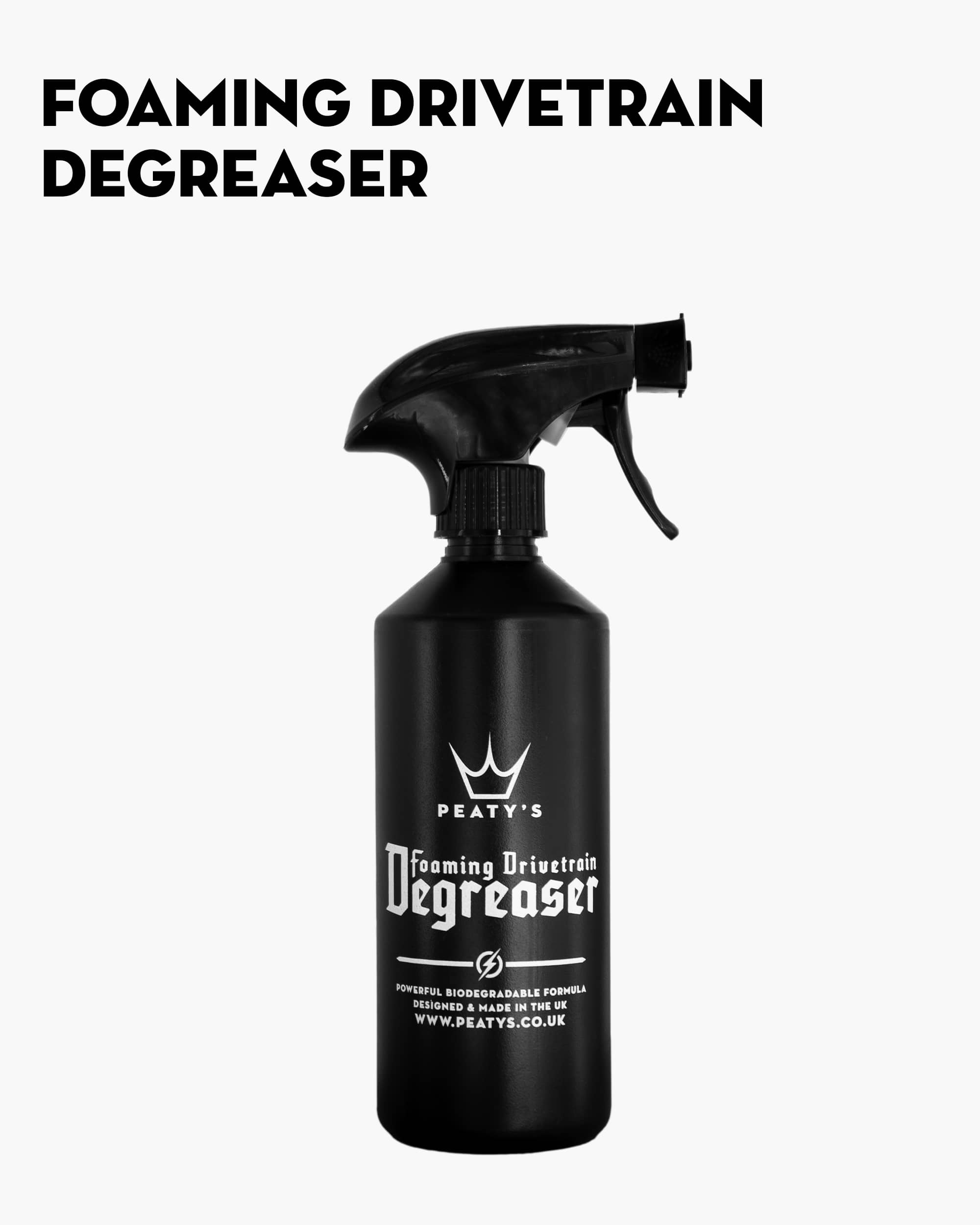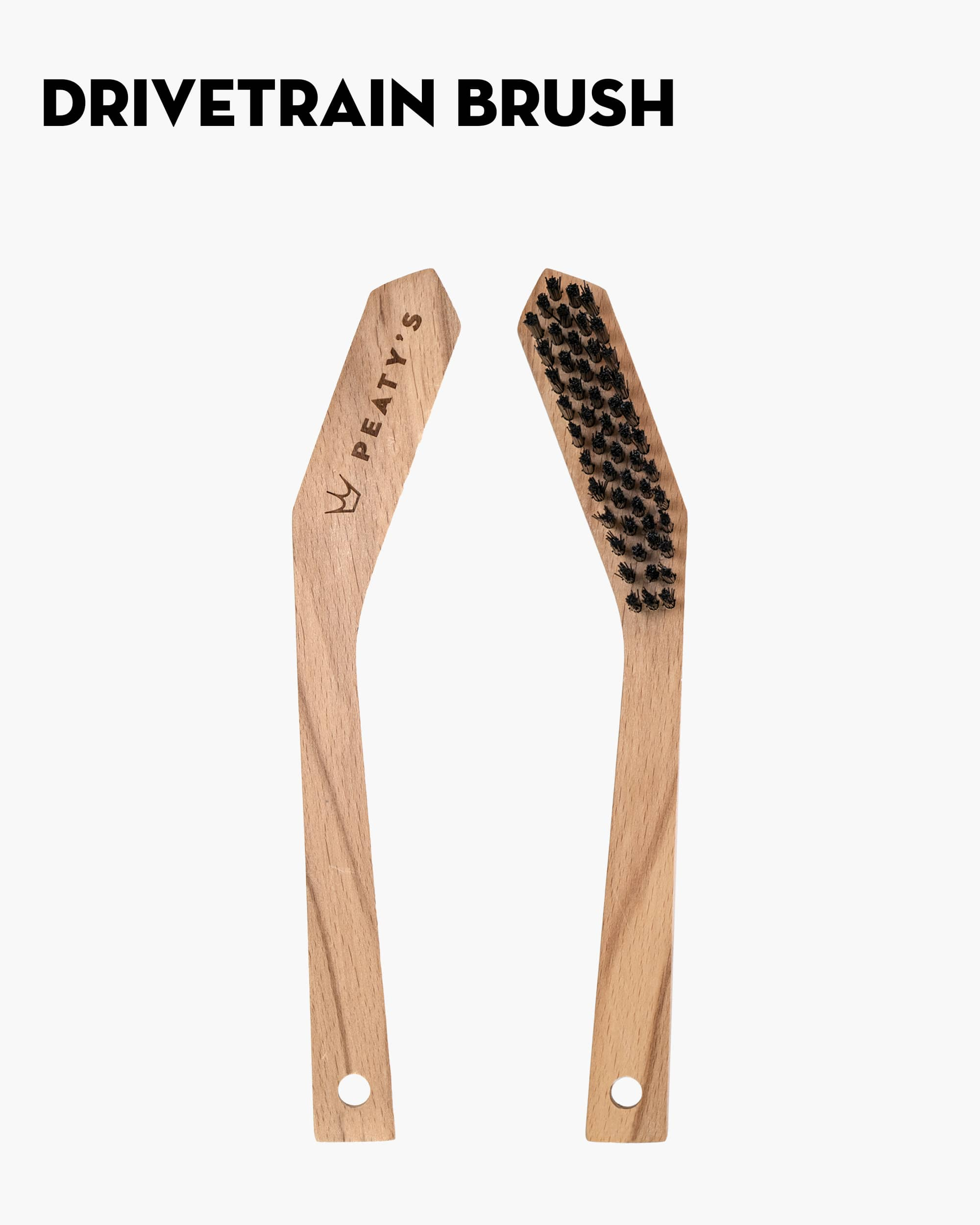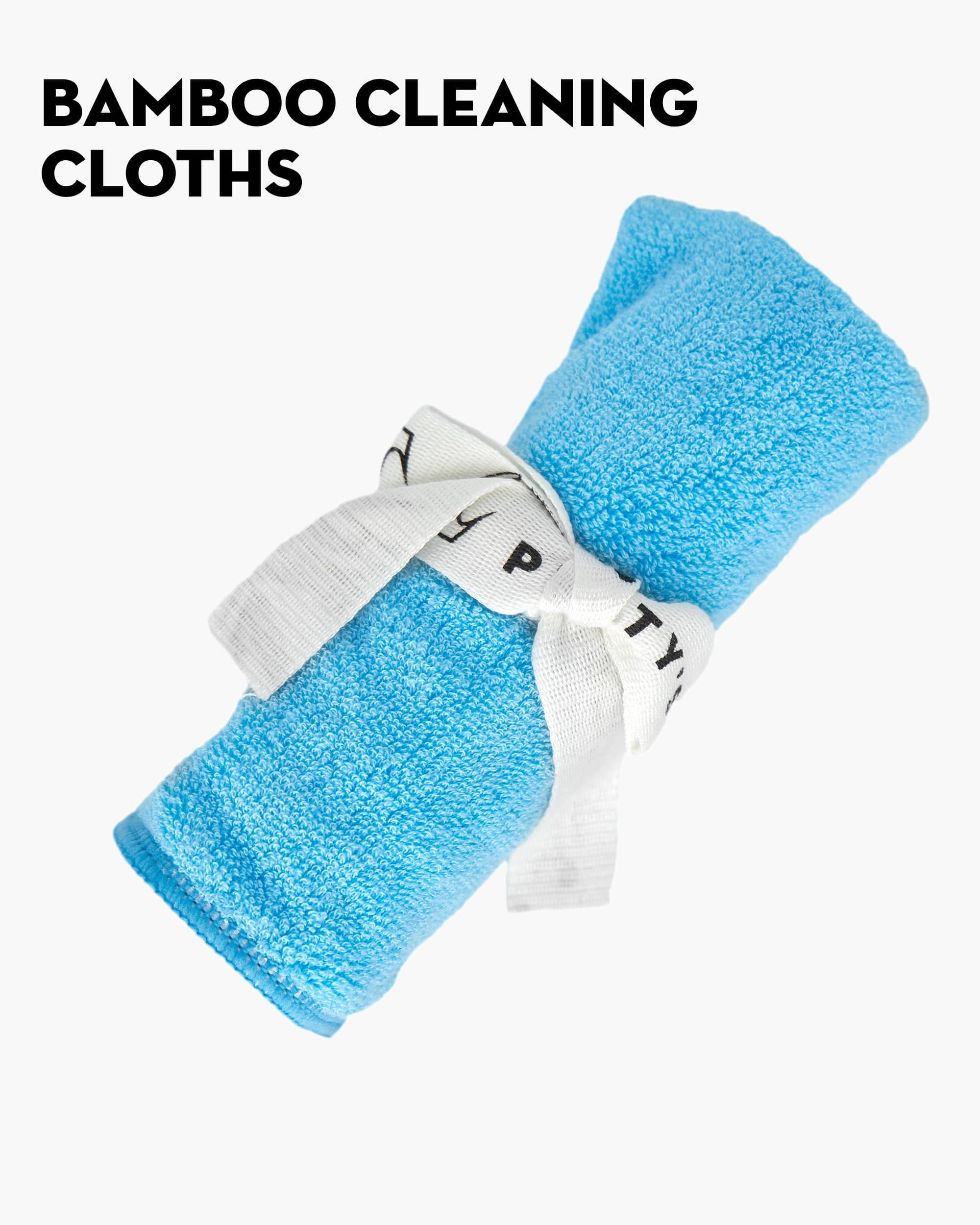 One Cleaning Kit To Rule Them All
1 x 1 Litre Loam Foam

1 x 500ml Foaming Degreaser

1 x 60ml LinkLube All-Weather

1 x Bog Brush

1 x Drivetrain Brush

1 x Bamboo Bicycle Cleaning Cloth

1 x Heavy duty toolbox with removable parts tray
Far from a load of products thrown into a cheap bucket, Peaty's Complete Bicycle Cleaning Kit provides all your essential cleaning products in a premium storage solution. Made from recycled plastic and with a strong aluminium carry handle, this kit contains all the key products you need to go from filthy dirty to race-ready.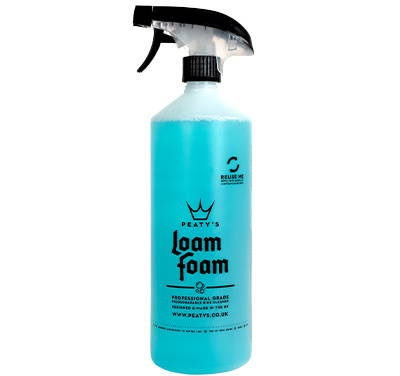 Peaty's LoamFoam is a minty fresh, professional-grade, biodegradable cleaner that is tough on dirt yet safe to use on all bike surfaces including carbon, brake pads and disks.
LoamFoam's unique cleaning formulation is blended with organic gelling agents, allowing the active cleaning compounds to cling to your bike for longer. The result is a shiny clean steed with minimal effort.
Find out more
Foaming Drivetrain Degreaser

Peaty's Foaming Drivetrain Degreaser is the ultimate bike specific, high strength foaming drivetrain degreaser. Our powerful biodegradable formula has been designed to be tough on grime for fast and powerful drivetrain degreasing, while remaining kind to the rest of your bike and the environment.
Find out more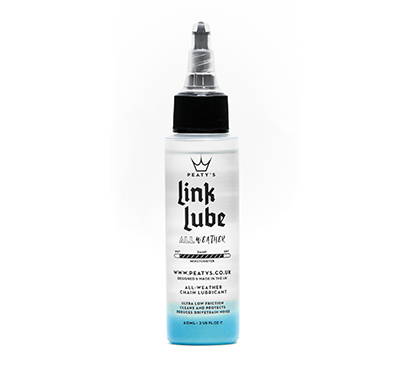 Born in the lab and raised between the tapes, Peaty's Link Lube is a minty fresh, triple distilled, ultra high speed chain oil for use in all conditions.
Our unique two-part formula penetrates and cleans deep inside your chain, driving out moisture, grit and grime and replacing them with unique blend of oils and waxes (Peaty's secret sauce) to lubricate and protect. Yes, you read that correctly... Peaty's Link Lube actually cleans your chain as you use it!
Find out more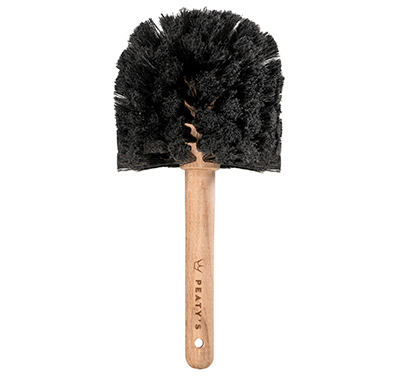 Bicycles are full of hard to reach places, so the hard edges of traditional flat-faced brushes just clatter around when you're trying to clean.
Find Out More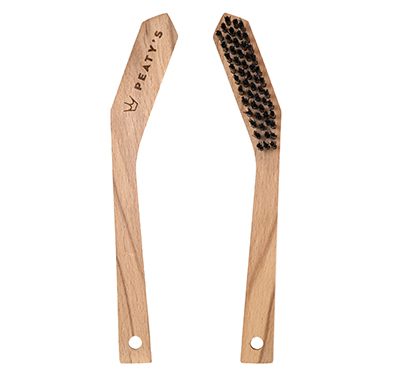 Ever knuckle punched a cassette tooth while cleaning? It hurts! To combat bleeding knuckles, our unique angled head moves your hand away from the sharp spinning cassette while scrubbing.
Find out more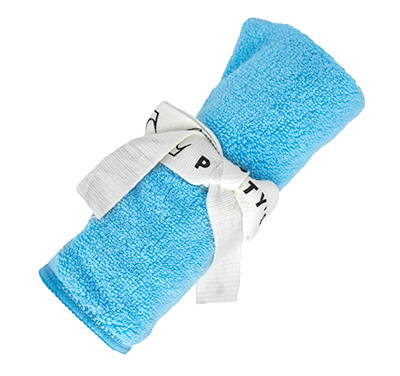 Bamboo Bicycle Cleaning Cloth

Our Bamboo fabric is durable and highly absorbent as well as being naturally hypo-allergenic, antimicrobial and antibacterial. Made from 100% natural organic bamboo you won't have to be leaking thousands of microplastics each time you wash your bike.
Find Out More