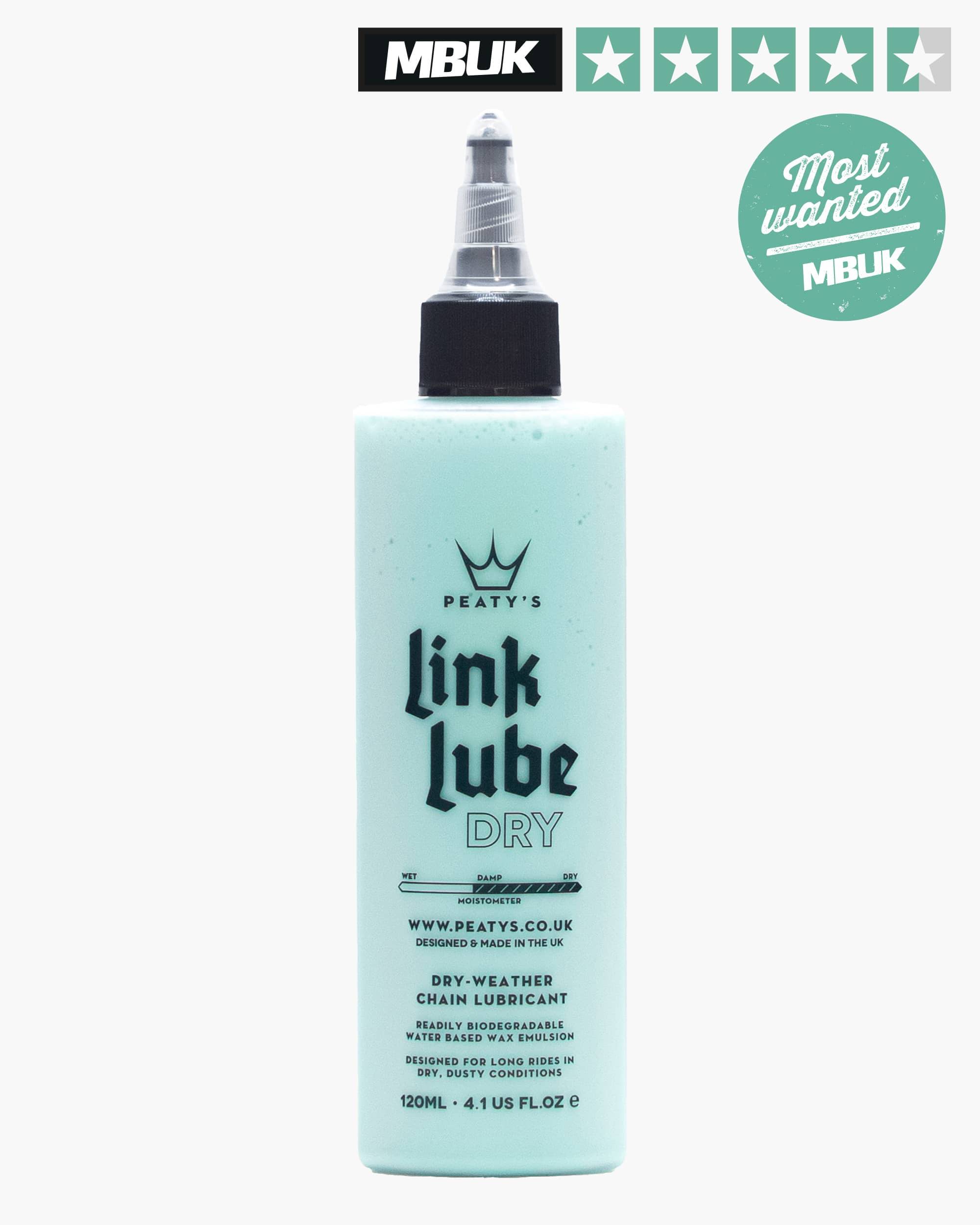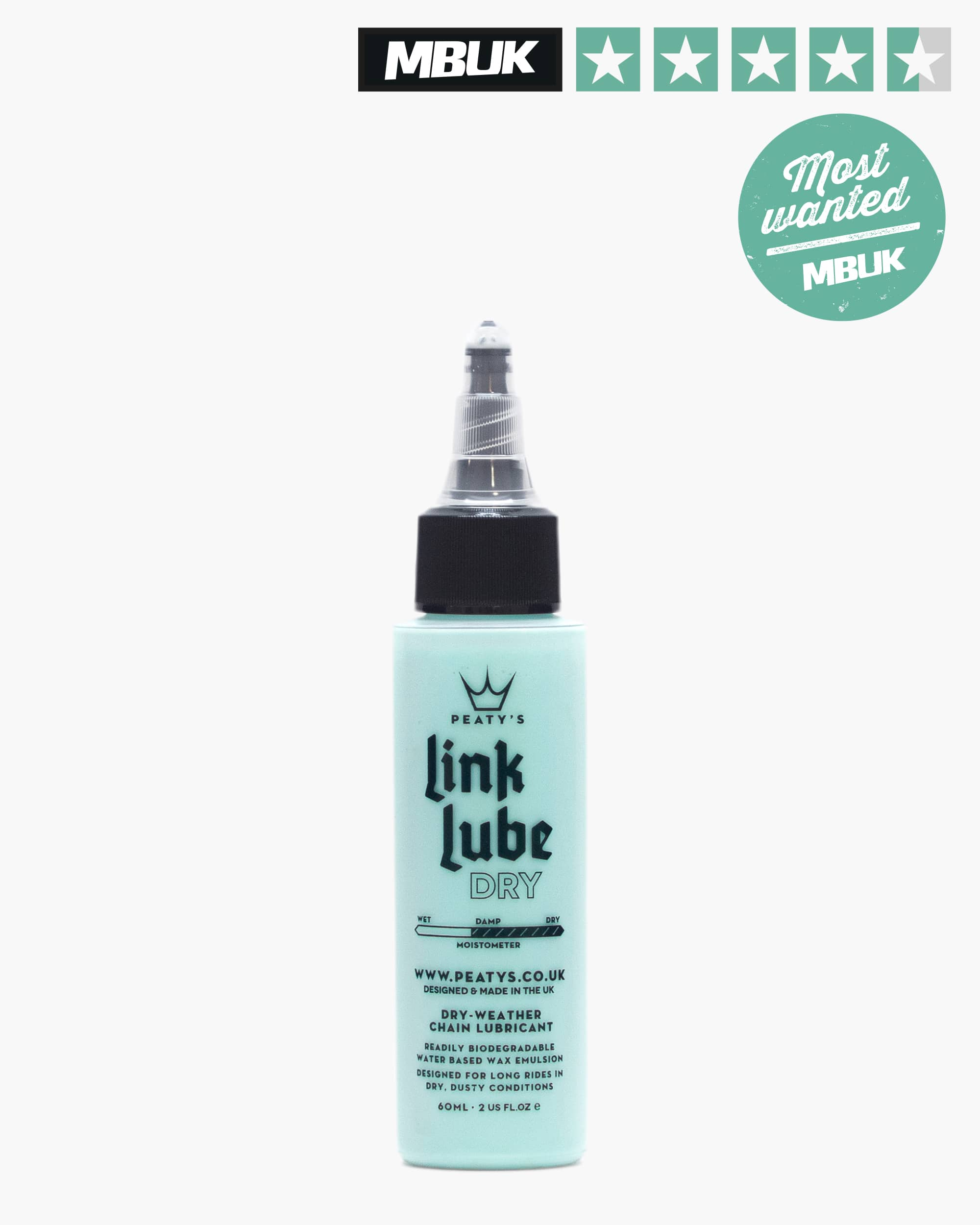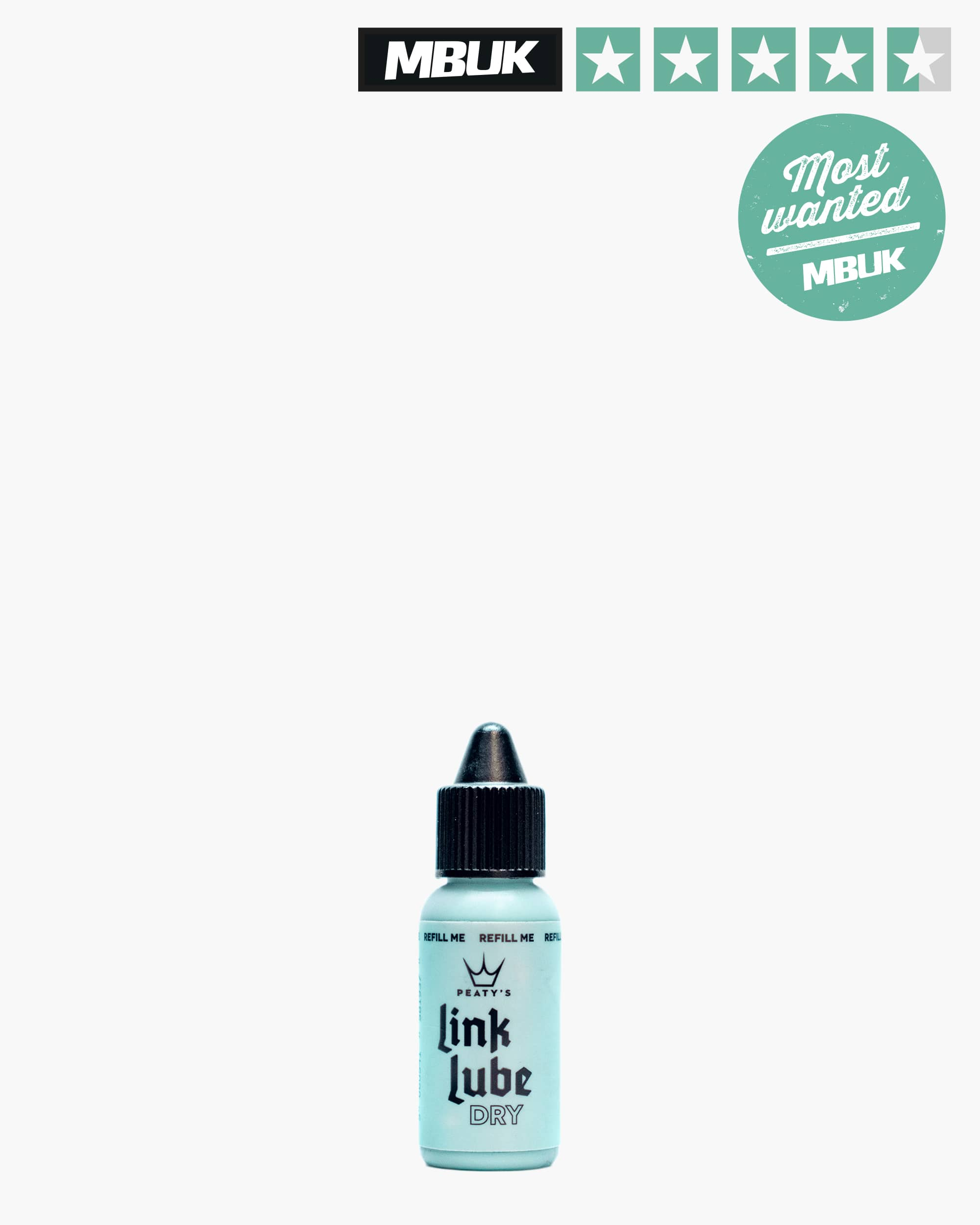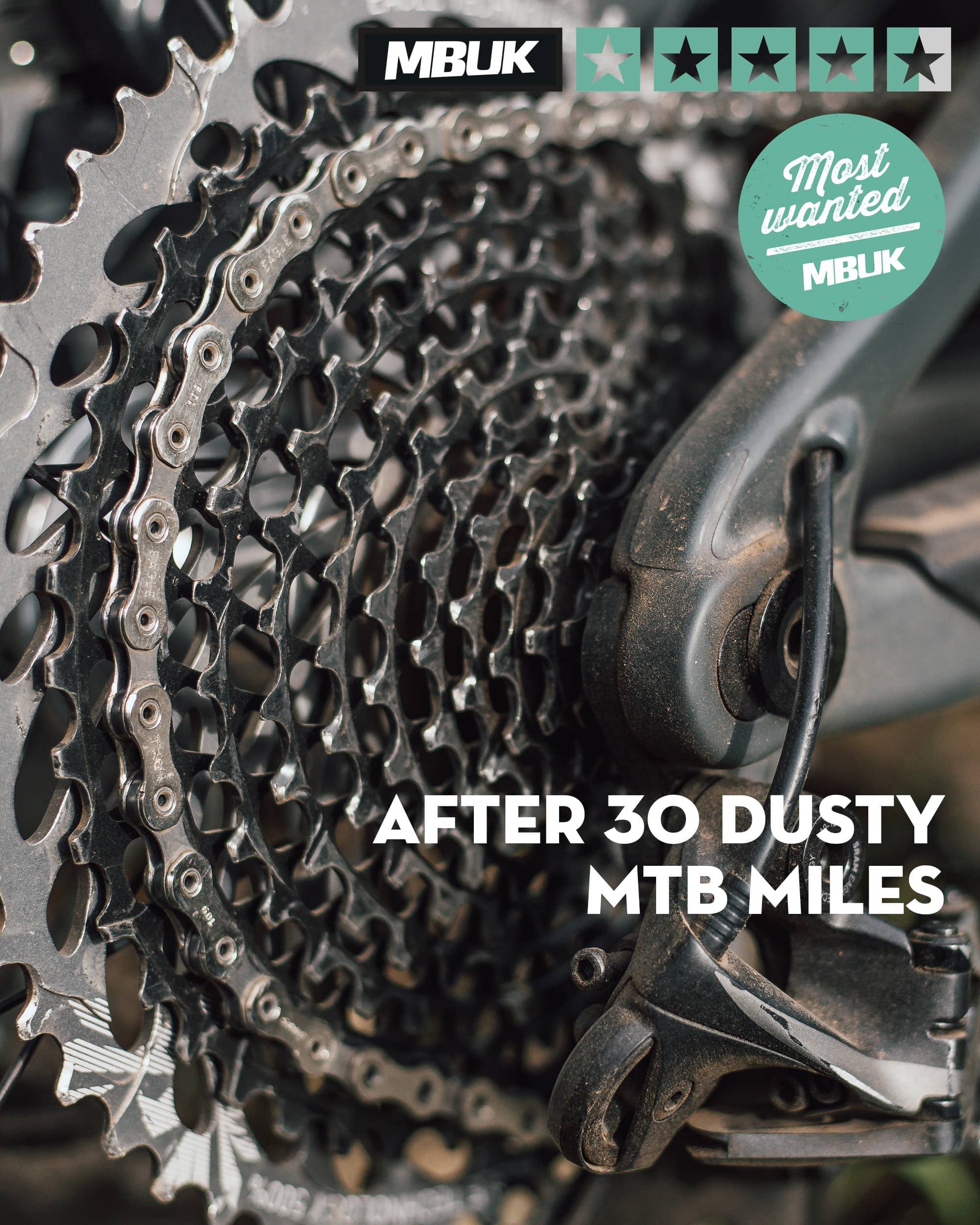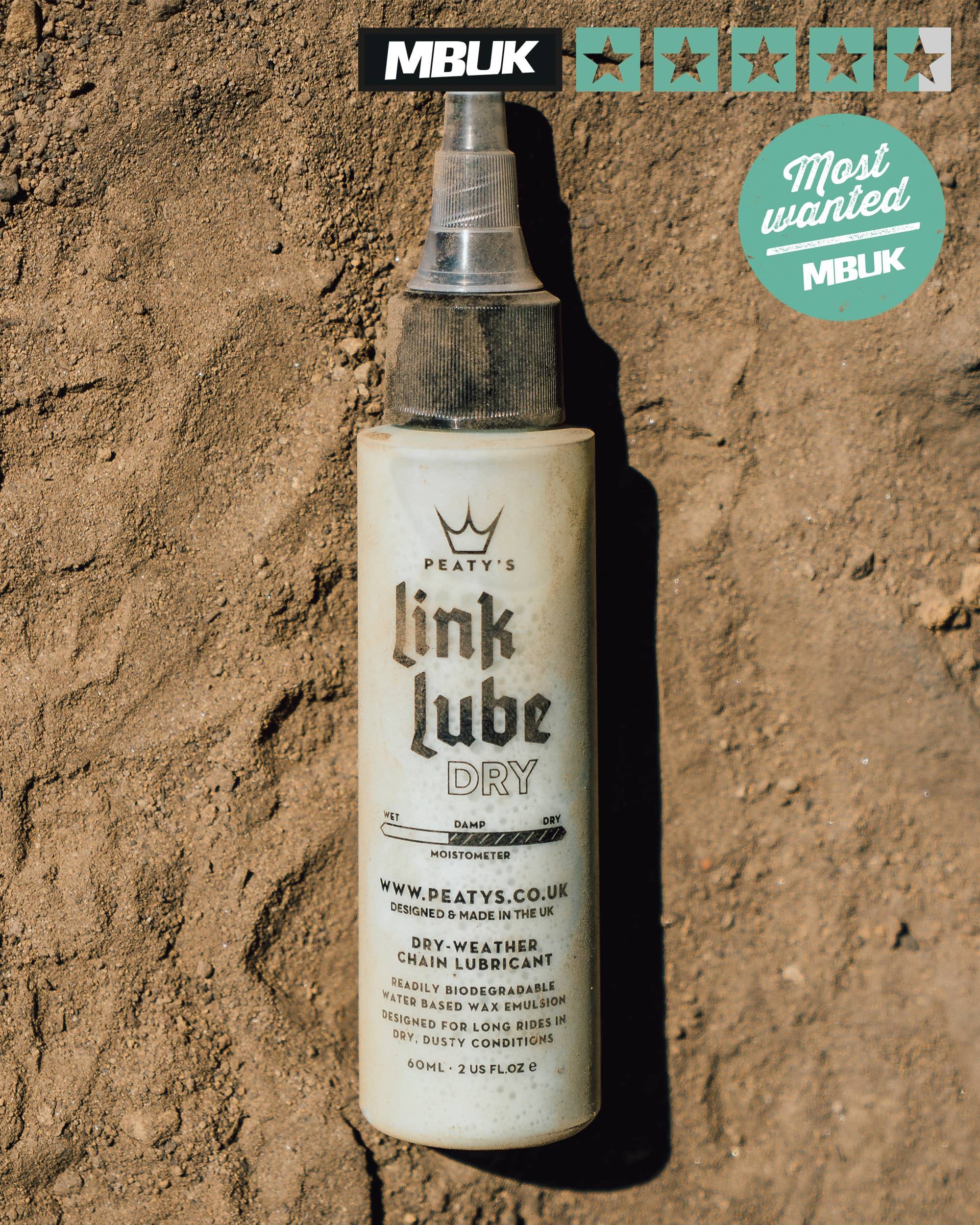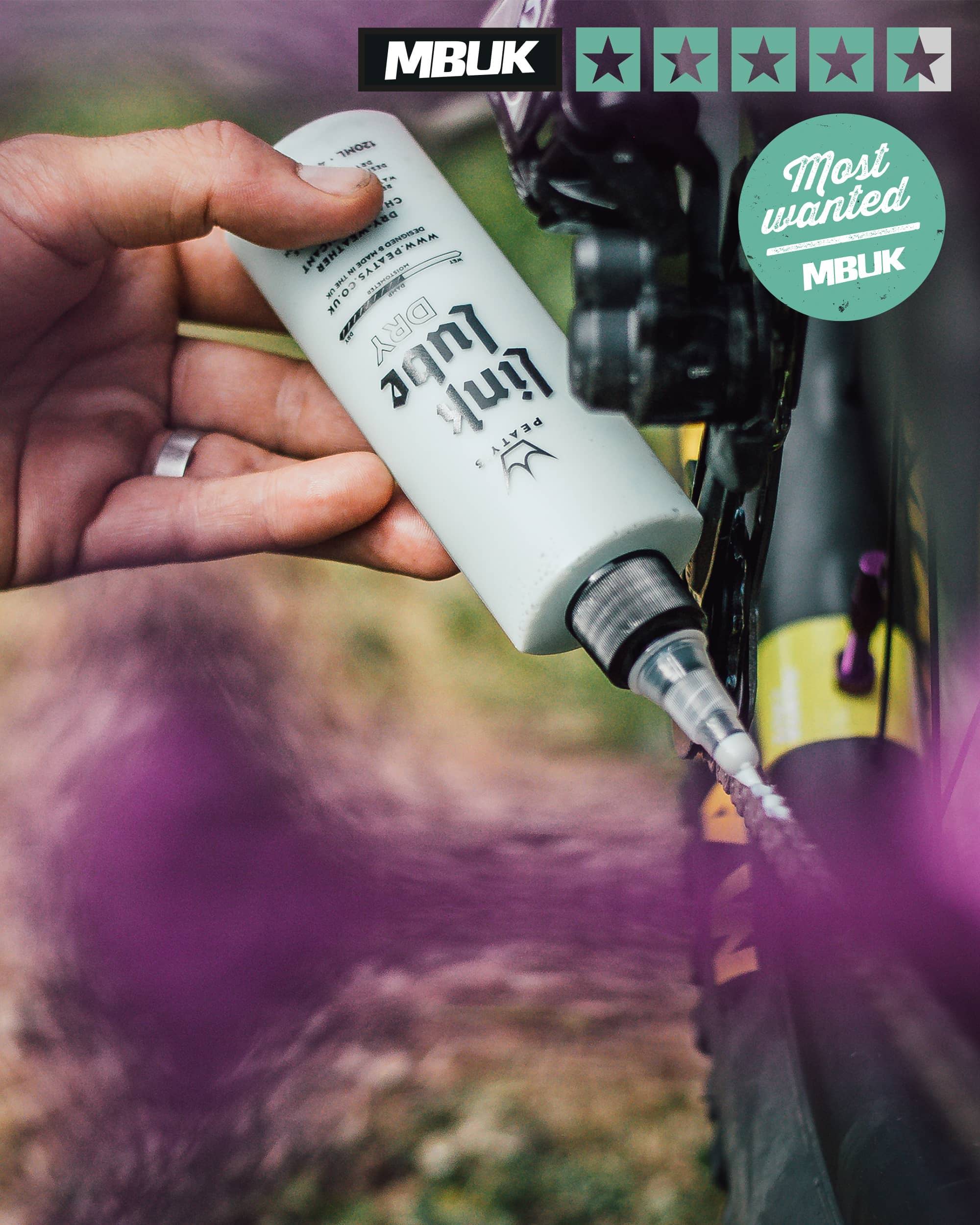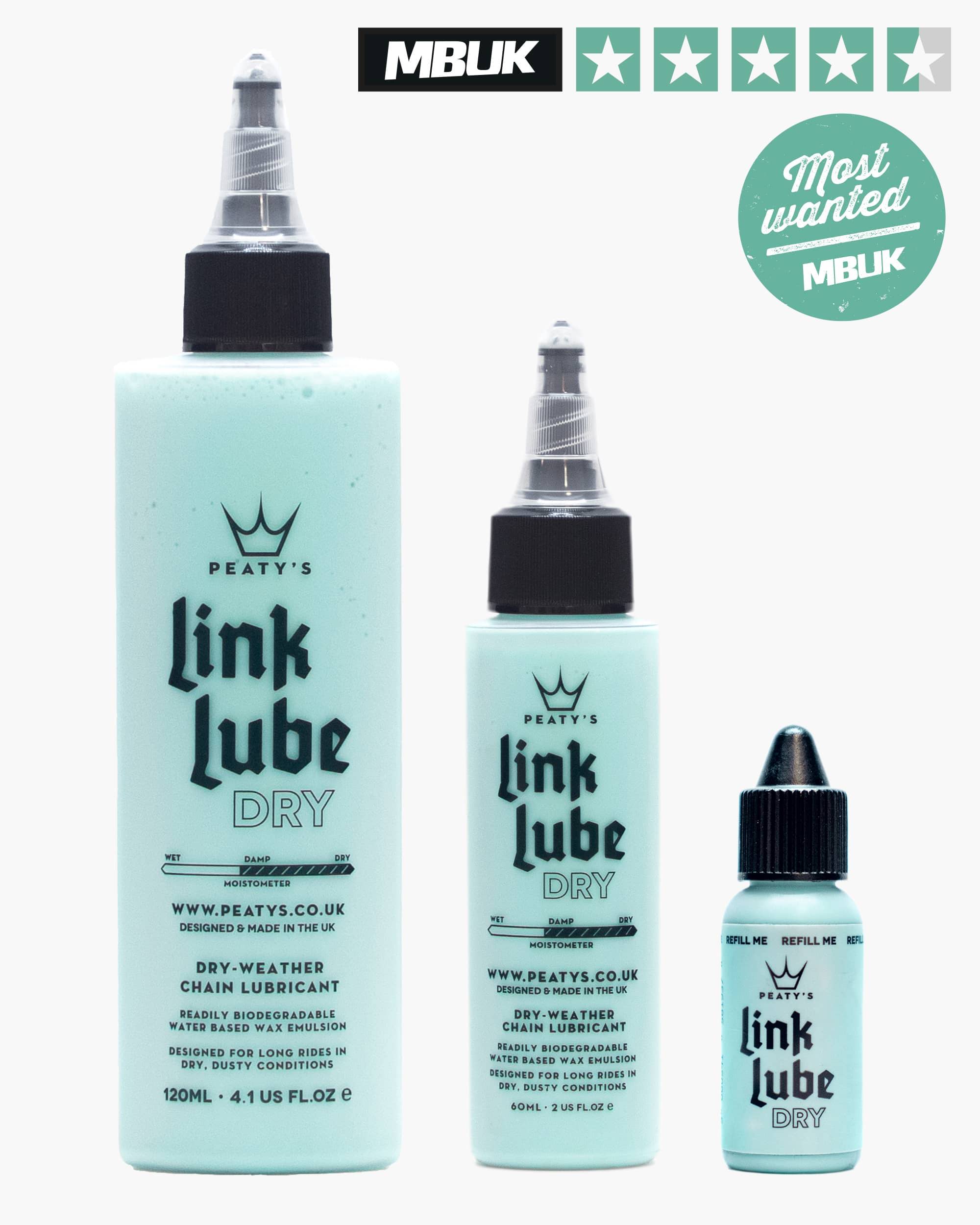 For when it's drier than a camel's a******
Wax Based Formulation Lasts Longer In Dry, Dusty Conditions As It




Does Not Attract Dirt

Blue Indicator Dye Easily Shows When Lube Is Dry And Ready To Ride

Readily Biodegradable

Up To ~300km / 190miles Per Application (depending On Conditions)

Rounded Tip To The Applicator Cap Rolls Easily Over The Chain When




Applying

Unique Tall And Slim Bottle Is Shaped To Fit Like A Pen In Your Hand To




Make Application Easy
LinkLube Dry is a readily biodegradable, wax-based chain lube for use in desert dry and dusty, to mildly moist conditions. Our unique formula uses a blend of waxes suspended in a water-based emulsion to give you a long-lasting, clean-running, quiet chain. More Info...
Looking for a lube to handle wetter weather? Check out LinkLube All Weather.
🔮 All Weather vs. Dry... WHat's the difference?
LINKLUBE ALL WEATHER IS OUR ONE-STOP CHAIN LUBE FOR MOST WEATHER CONDITIONS. WHILE THE BASE CARRIER FLUID WE USE HAS FAST PENETRATING, CHAIN CLEANING PROPERTIES, IT WILL NEVER BECOME FULLY DRY TO THE TOUCH. THIS CAN LEAD TO UNWANTED DUST ATTRACTION IN THE DRIEST, DUSTIEST CONDITIONS, SO A MORE BESPOKE DRY LUBE is REQUIRED.
🔬 Why water? Why Wax?
WAX IS THE BEST LUBRICANT FOR DRY CONDITIONS BECAUSE, WHEN APPLIED CORRECTLY, IT WILL FILL YOUR LINKS AND ROLLERS WITH A HARD, SLIPPERY COATING, WHICH WILL LAST FOR AGES ON THE TRAILS AND IS DRY TO THE TOUCH - SO DRY DIRT AND DUST WILL NOT STICK TO IT.
For more details on the formulation check out the 'tell me more' section below.

When applied for the first time, IT IS ESSENTIAL THAT LINKLUBE DRY IS APPLIED TO A WELl-DEGREASED AND DRY DRIVETRAIN. IF A CHAIN IS DIRTY, then DIRT AND OLD LUBE TAKe UP SPACE IN THE ROLLERS, preventing new lube from reaching the places it needs to, and Any RESIDUAL OIL-BASED LUBE CAN ALSO RESULT IN REDUCED DURABILITY AND PREMATURE BLACKENING.
FULLY DEGREASE before applying fresh lube to ensure THERE IS NO OLD CHAIN OIL PRESENT. For best results use our foaming Drivetrain Degreaser or, in the case of brand new chains, use XXX Solvent Degreaser to remove stubborn FACTORY greases.

Ensure you thoroughly rinse your chain with clean water after degreasing (degreaser is designed to eat chain lube after all).

ALLOW CHAIN TO dry THOROUGHLY BEFORE APPLICATION.

APPLY TO THE INSIDE FACE OF THE CHAIN ONLY. THE LIGHT BLUE COLOUR TO THE CHAIN LUBE ALLOWS YOU to SEE EXACTLY WHERE YOU HAVE AND HAVEN'T APPLIED.

Keep the chain cycling for 20 seconds to help the lube penetrate fully into the pins and rollers.

Check for over-application. YOU CAN TELL IF YOU OVER-APPLY LinkLube DRY BECAUSE YOU'LL SEE THE LUBE START TO FILL THE NARROW CHAIN LINKS. if this happens, JUST slowly CYCLE THROUGH YOUR GEARS A FEW TIMES TO TRANSFER THE EXCESS LUBE ONTO THE CASSETTE. YOU'LL SEE THE LUBE DISAPPEAR FROM THE NARROW LINKS, LEAVING LUBE ONLY WHERE IT'S NEEDED ON THE CHAIN.

LEAVE TO FULLY DRY SO THE LUBE GOES FROM A LIGHT BLUE COLOUR TO COMPLETELY CLEAR (YOU'RE WAITING FOR THE WATER TO EVAPORATE, SO LEAVING IT IN THE SUN HELPS). HOW LONG IT TAKES FOR THE WATER TO EVAPORATE - AND FOR THE LUBE TO TURN CLEAR IN COLOUR - DEPENDS ON THE WEATHER CONDITIONS. this CAN RANGE FROM JUST A FEW MINUTES (IF hot), TO A FEW HOURS (IF COLD and damp). FOR BEST RESULTS APPLY THE NIGHT BEFORE.

RIDE!
⚠️ Caution
Do not get LinkLube (or any lube for that matter!) on your brakes or brake pads.
How often should I lube my chain?
As a general rule you should re-lube every 4 hours of riding time on a mountain bike and 6 hours on a road bike. that said, If your chain is still running quietly and smoothly then great - keep on riding! Once your chain starts to sound dry and rattly then it's time to reapply.
FOR ROAD RIDING, THE CANYON DHB RACING TEAM HAVE FOUND THEy CAN ACHiEVE AROUND 300KM / 190MILES PER APPLICATION IN RACE CONDITIONS. OFFROAD MILES MAY REDUCE THIS DOWN TO AS LITTLE AS 30MILES, AS coarse DUST AND STEEP CLIMBS PUT MUCH MORE STRAIN ON THE CHAIN AND CHAIN LUBE.
THE DURABILITY AND LONGEVITY OF LINKLUBE DRY WILL HEAVILY DEPEND ON THE CONDITIONS YOU'RE RIDING IN.
Do I need to degrease before every application?
once you're set up using wax lube, you can keep applying directly on top of the old lube. simply brush away any loose residue from the chain and cassette before reapplying.
Depending on riding conditions, your chain may still get some dirt flicked onto it by the front wheel, which can normally be brushed away with a clean dry brush or cloth.
In the case of more stubborn dirt and grime, which cannot be brushed or wiped away, repeat the degreasing process above and reapply.
More About Wax Lube Formulation
There are THREE OPTIONS WHEN FORMULATING A WAX-BASED LUBE:
The time-consuming, messy option... CREATE A HOT-MELT WAX LUBRICANT. THESE BLOCKS OF HARD WAX ARE MELTED GRADUALLY IN A SLOW COOKER AND YOU APPLY TO YOUR CHAIN BY COMPLETELY REMOVING FROM YOUR BIKE AND SOAKING IT IN THE MOLTEN WAX. ULTIMATE RESULTS BUT WITH A HIGH COST OF EQUIPMENT, TIME, EFFORT AND MESS.
the quick but compromised option... CREATE A SOLVENT-BASED WAX LUBRICANT WHERE WAXES ARE SUSPENDED IN FAST-EVAPORATING SOLVENTS. APPLIED IN DRIP FORM DIRECTLY TO THE CHAIN WHEN ON THE BIKE, THIS IS QUICK AND MUCH EASIER THAN HOT MELT WAX. THE SOLVENTS EVAPORATE AWAY QUICKLY, LEAVING A THIN, DRY LAYER OF WAX IN A CONVENIENT AMOUNT OF TIME. THE DRAWBACK OF THIS APPROACH, HOWEVER, IS THAT SOLVENT-BASED WAX LUBES CAN ONLY HOLD AROUND 15-20% WAX CONTENT WHICH RESULTS IN REDUCED DURABILITY WHERE IT MATTERS.
The best all-round option... Create A WATER-BASED WAX EMULSION like linklube dry. THIS CAN ALSO BE APPLIED CONVENIENTLY IN DRIP FORM, DIRECTLY TO A CHAIN STILL ON THE BIKE. BY USING WATER - RATHER THAN A FAST-EVAPORATING SOLVENT - THE EMULSION CAN HOLD FAR MORE WAX CONTENT (35-40%), RESULTING IN MUCH HIGHER DURABILITY. while WATER EVAPORATES SLIGHTLY SLOWER THAN WITH SOLVENT-BASED FORMULAS, THE RESULTS ARE well WORTH THE WAIT!
The bottle I received is a slightly different colour blue?
THE FINAL COLOUR of LinkLube Dry MAY VARY SLIGHTLY FROM BATCH TO BATCH. THIS IS DUE TO VARIATIONS IN SOME OF THE NATURAL WAXES WE USE. DON'T WORRY, THIS IS NORMAL AND WON'T in any way AFFECT THE PERFORMANCE OF THE PRODUCT.