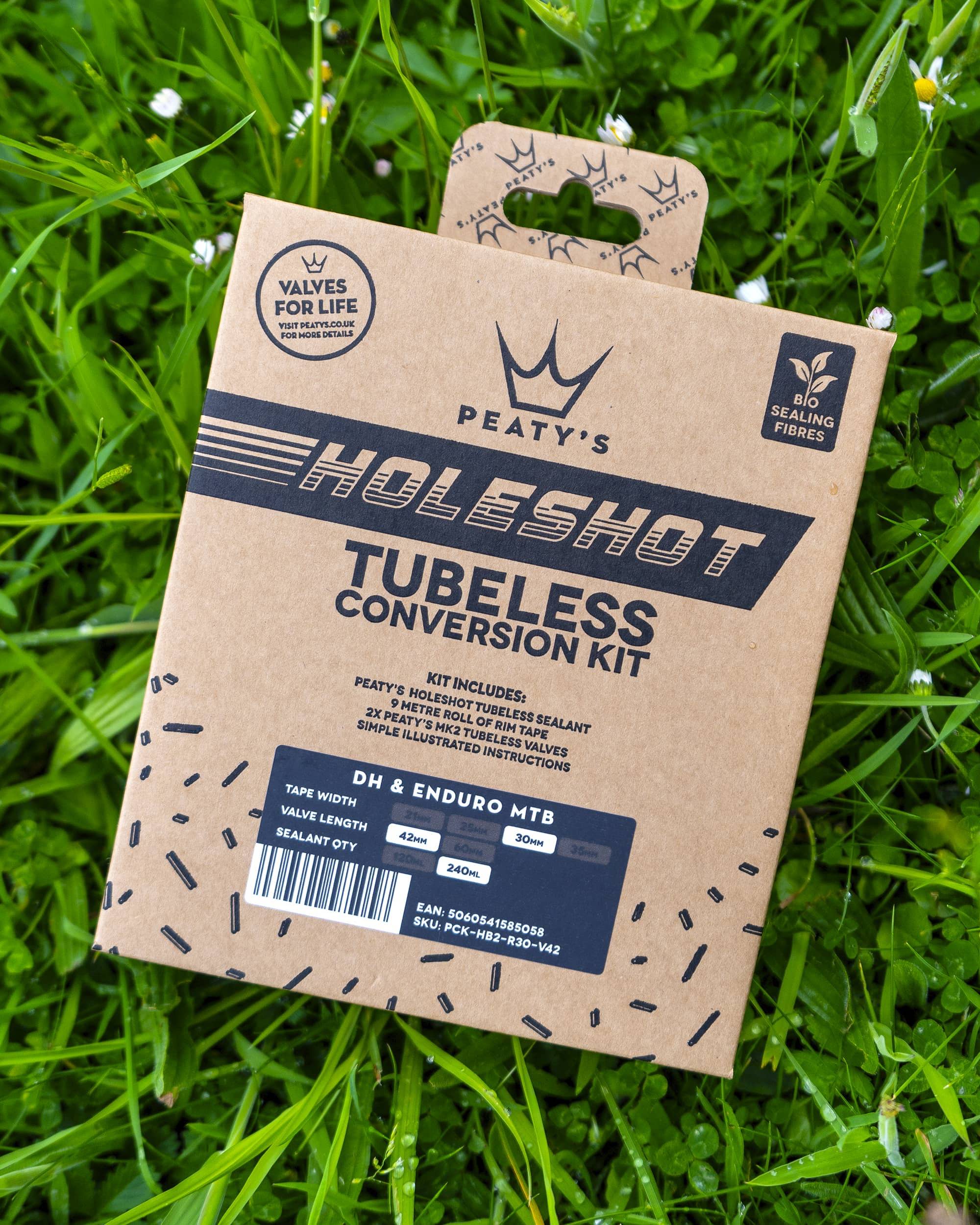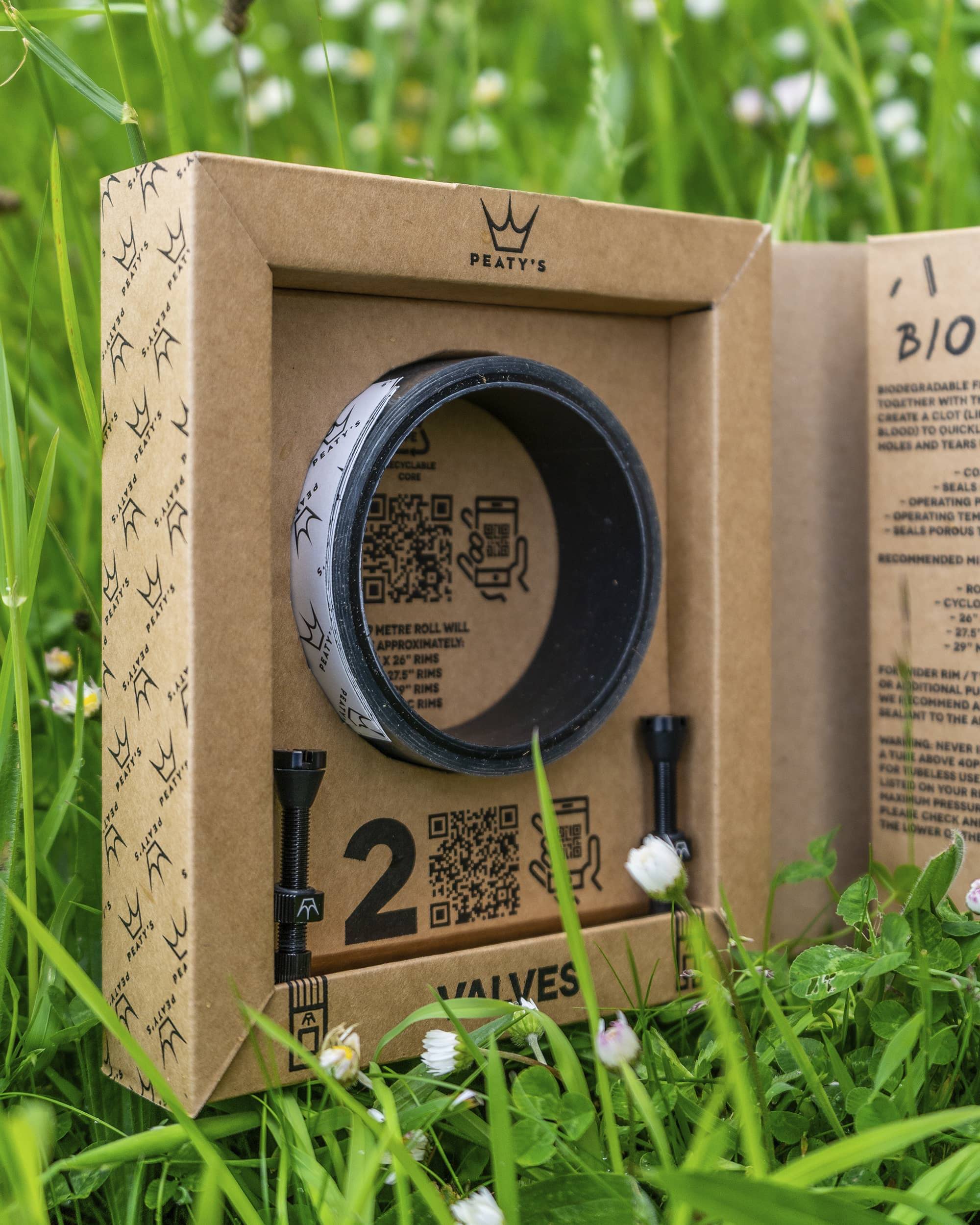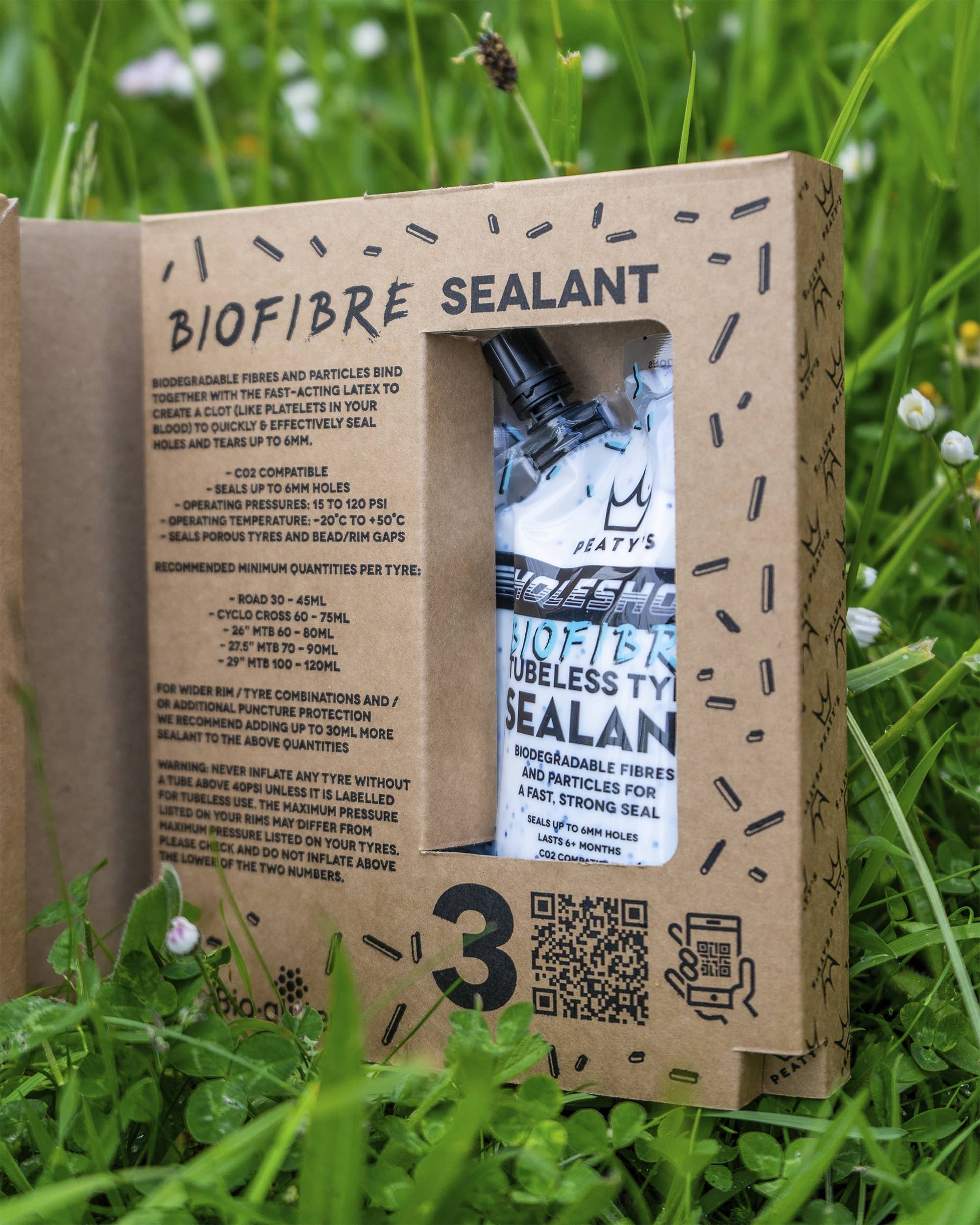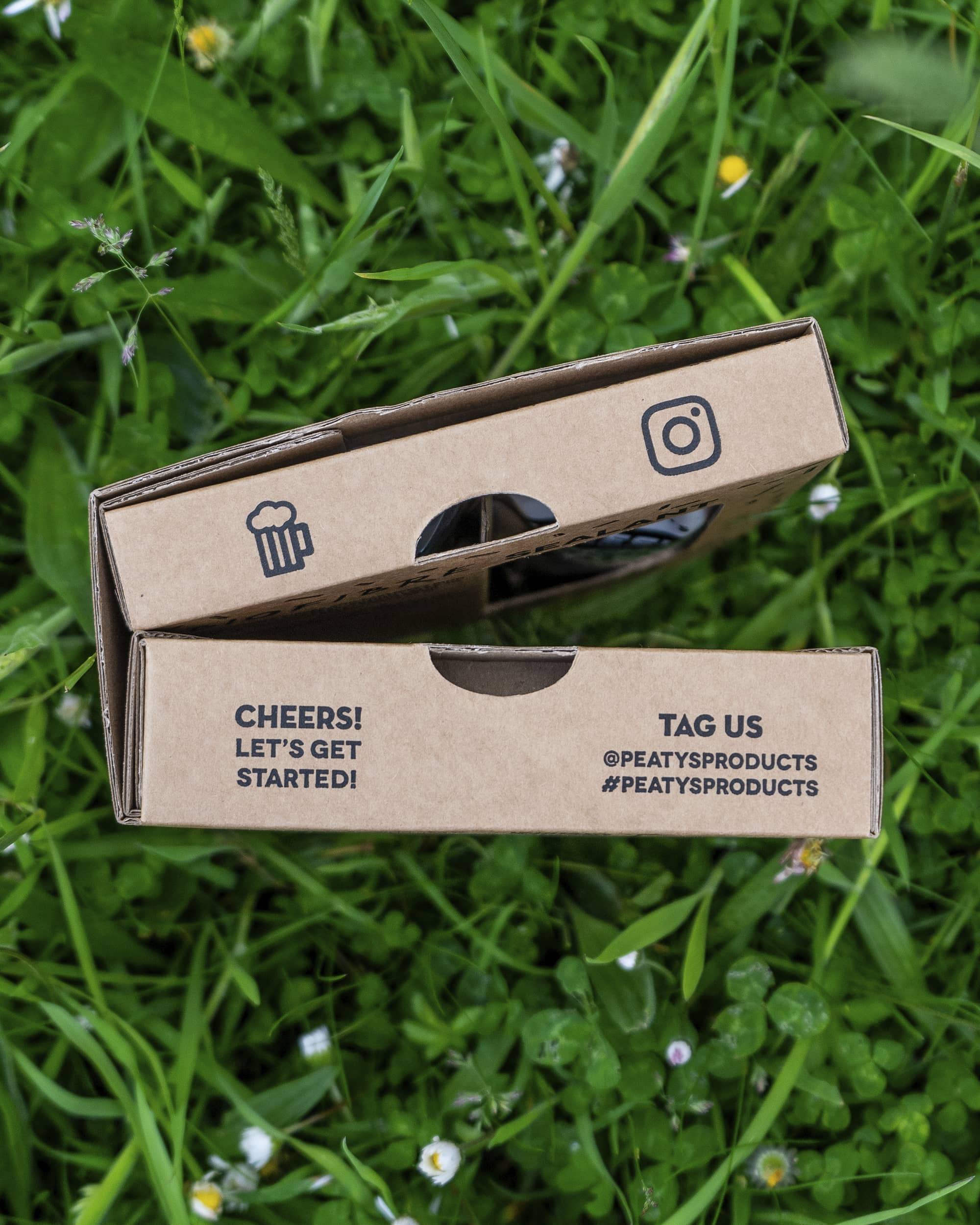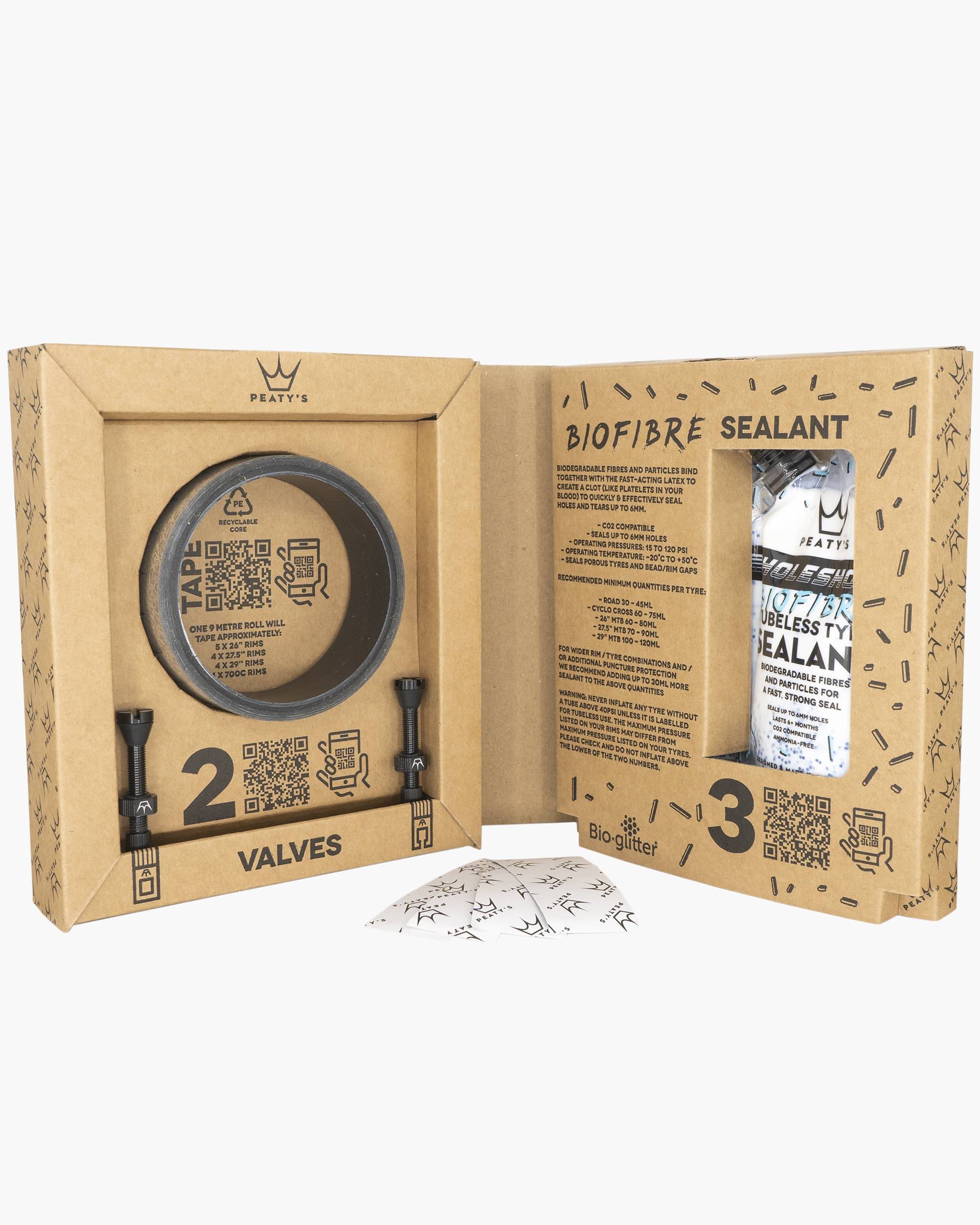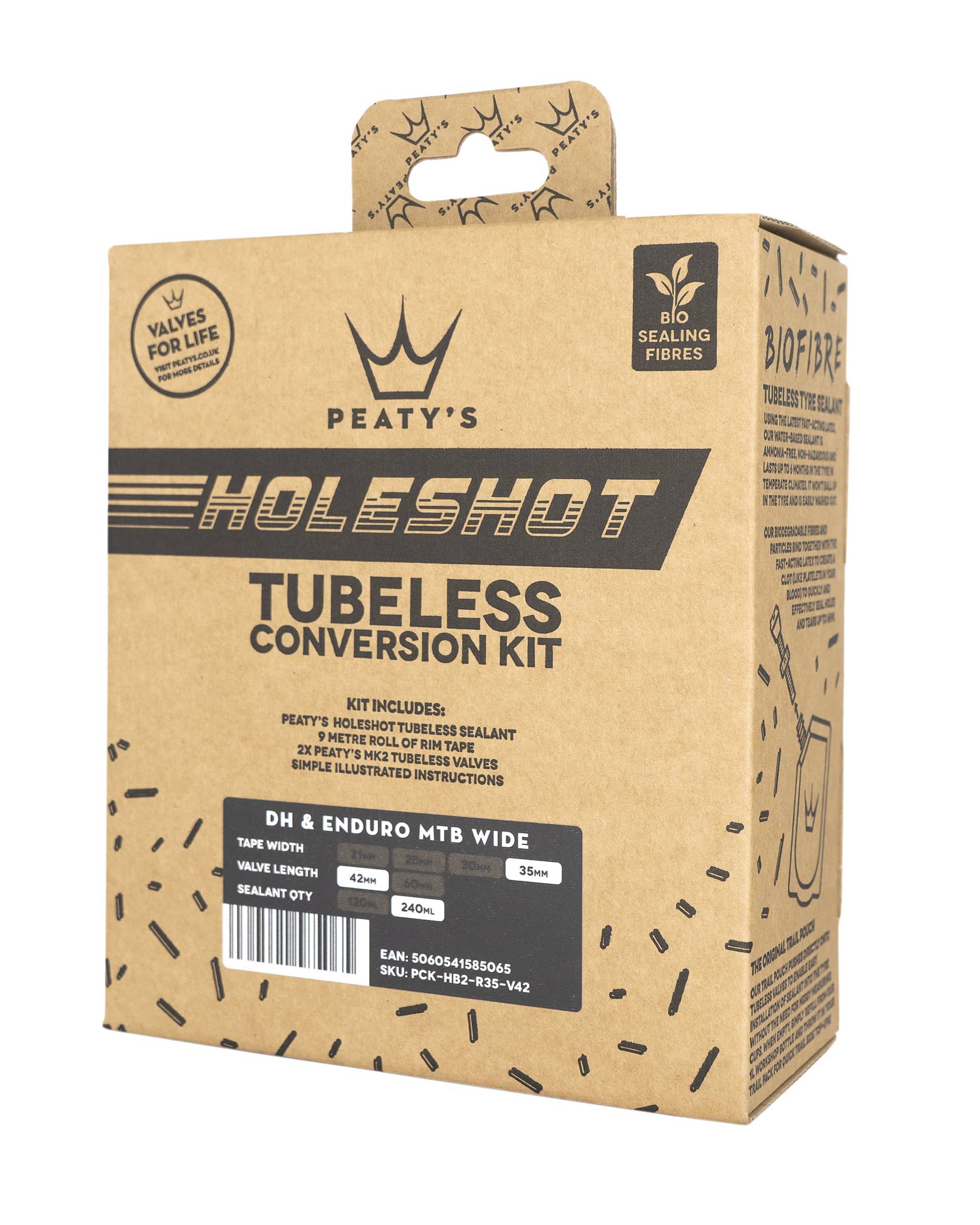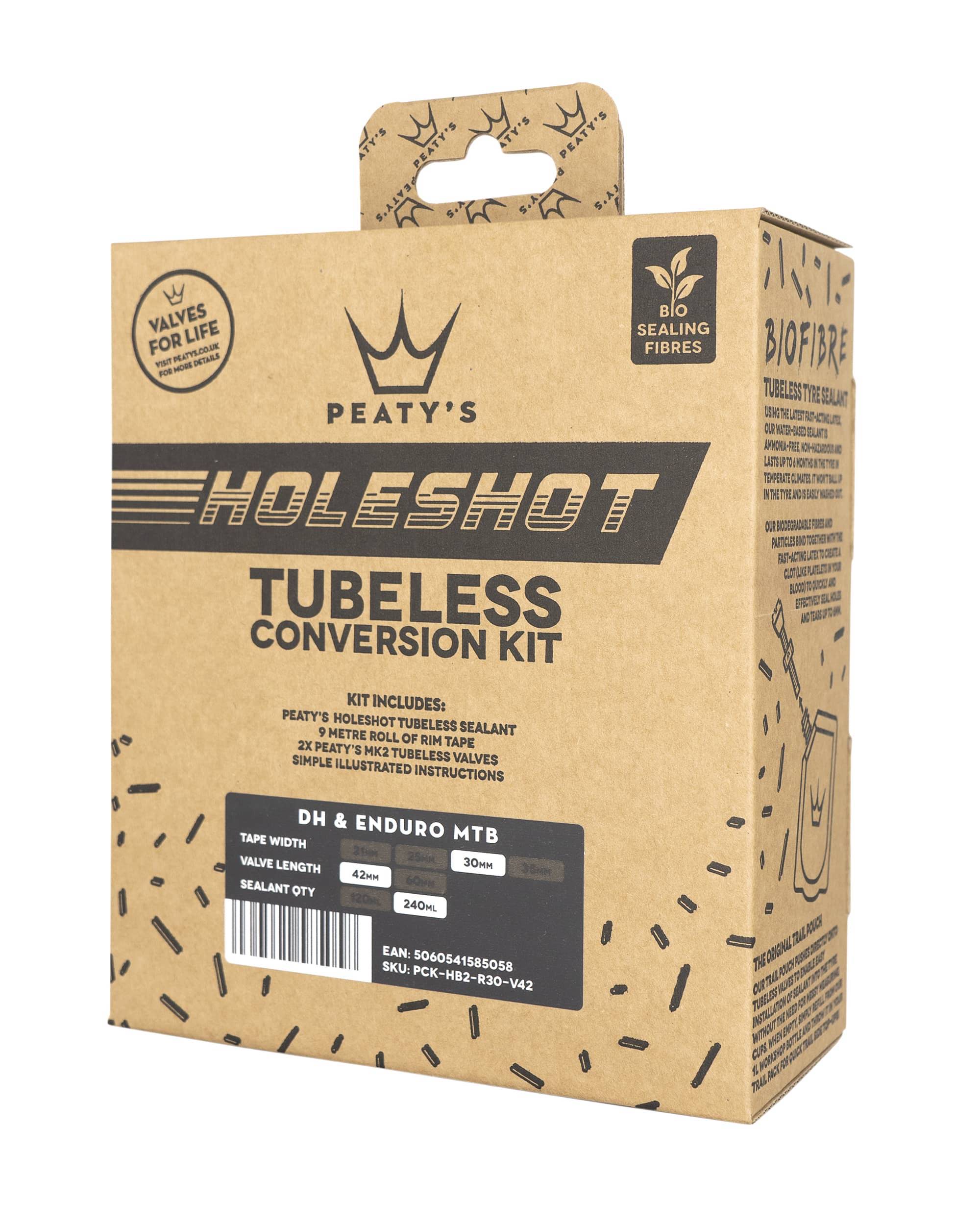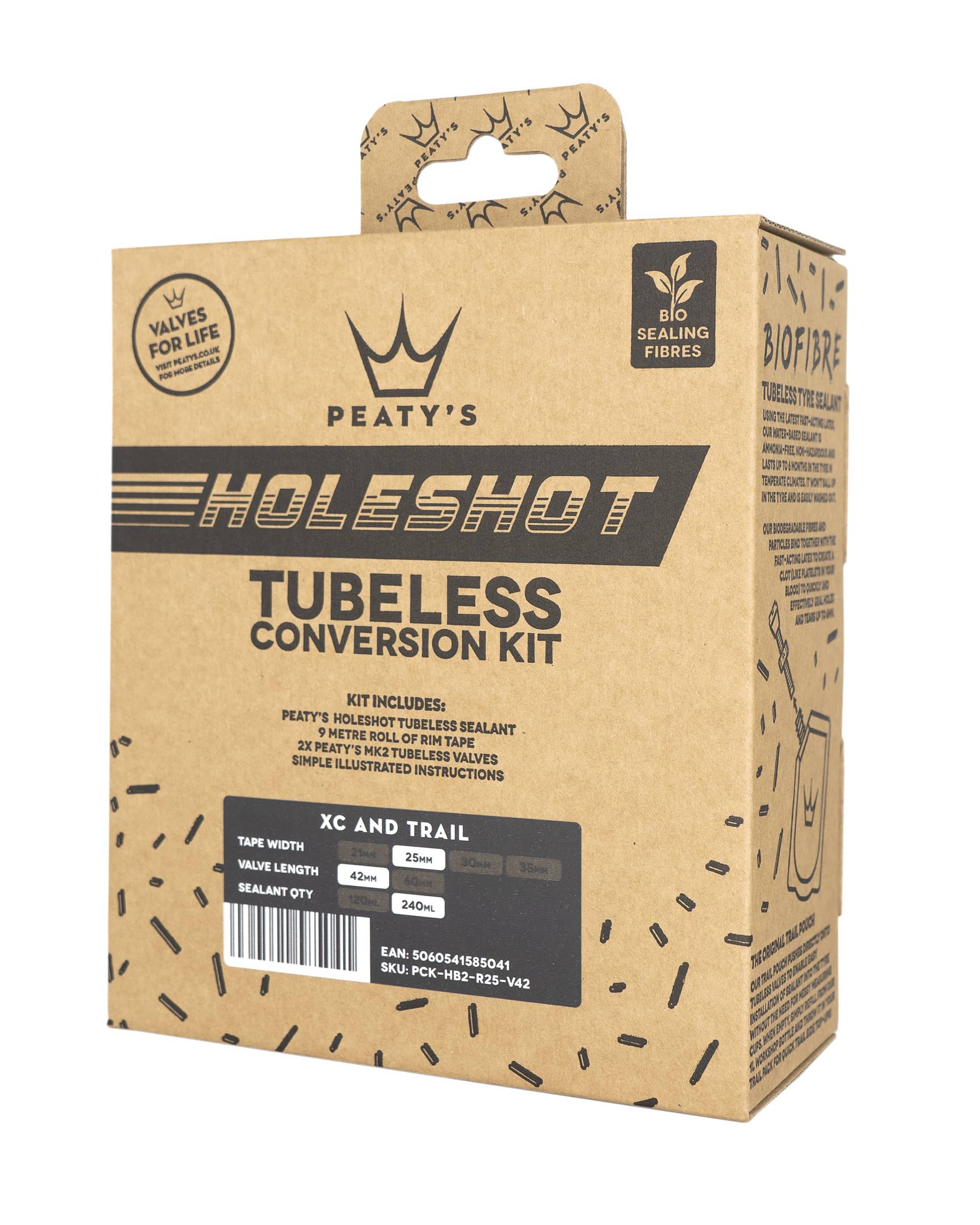 The Crown Jewels Perfectly Packaged
📝 What's included?
2 x 120ml Holeshot Tubeless Sealant pouches (1 x 120ml for the 21mm Road/Cyclocross option)
2x black mk2 Tubeless Valves
1x 9m roll of Tubeless Rim Tape
approximately fit:
5x 26" Rims

4x 27.5" Rims

4x 29" Rims

4x 700c Rims

4x Cloth finishing tape included for a perfect seal
📝 Kit Options
Road/Gravel– 21mm tape / 60mm valves / 120ml Sealant
XC/Urban – 25mm tape / 42mm valves / 240ml Sealant
DH/Enduro – 30mm tape / 42mm valves / 240ml Sealant
DH Wide – 35mm tape / 42mm valves / 240ml Sealant
Peaty's Tubeless Conversion Kit includes everything you need to run a fully optimised tubeless setup – Peaty's Rim Tape, MK2 Tubeless Valves and holeshot Sealant. If you value more time spent on the bike and less time fixing punctures, this is the perfect set up.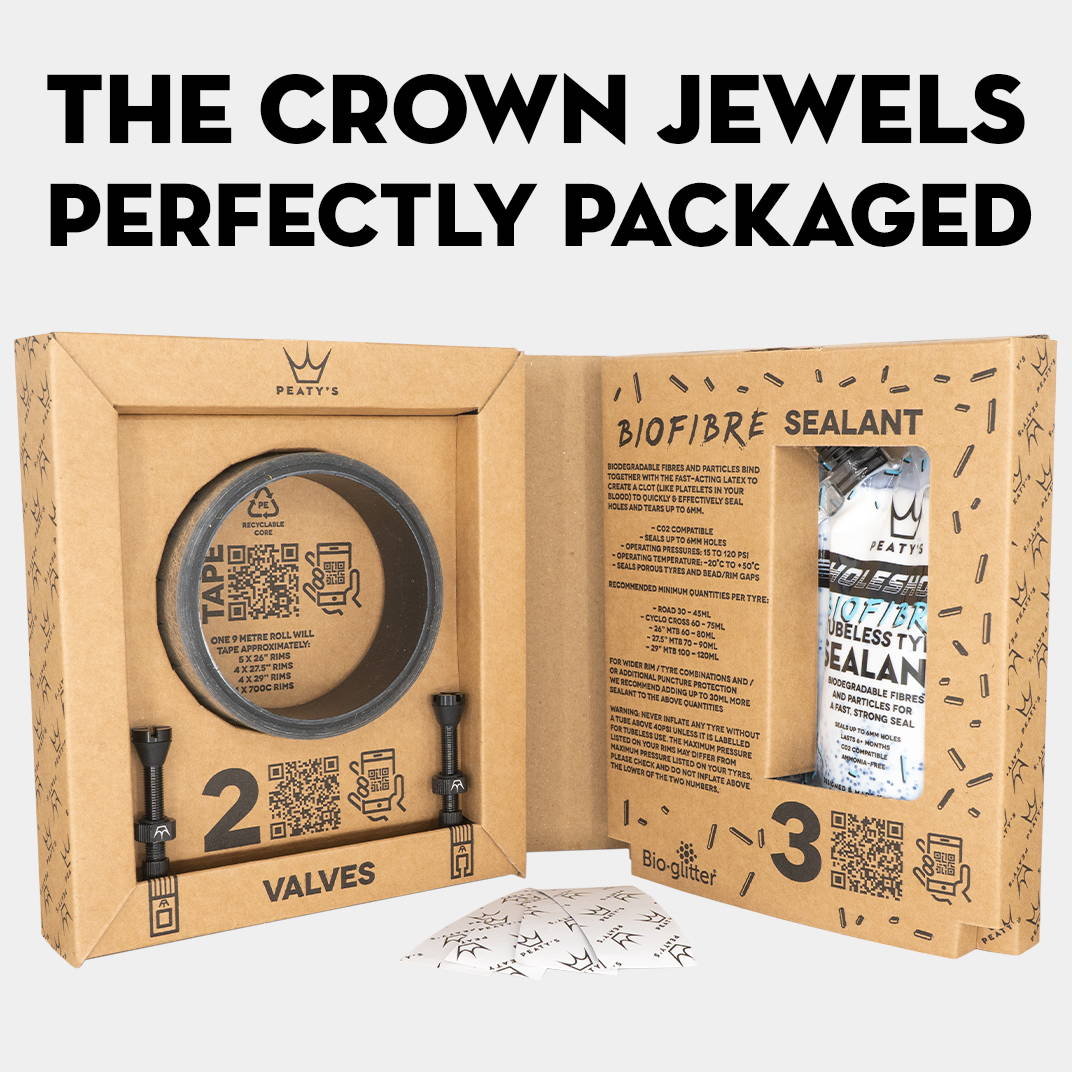 Not just a few bits thrown carelessly into a bag!
Peaty's Tubeless Conversion kits are beautifully laid out with easy to follow setup instructions. These conversion kits are available in a variety of configurations so that you can ride with the perfect tubeless set up whatever your discipline: road, gravel, XC, enduro, downhill – all good to go. Every conversion kit features a handy installation guide on the box, with QR links to step by step installation for each stage of installation – rest assured that the installation process will be slick and swift.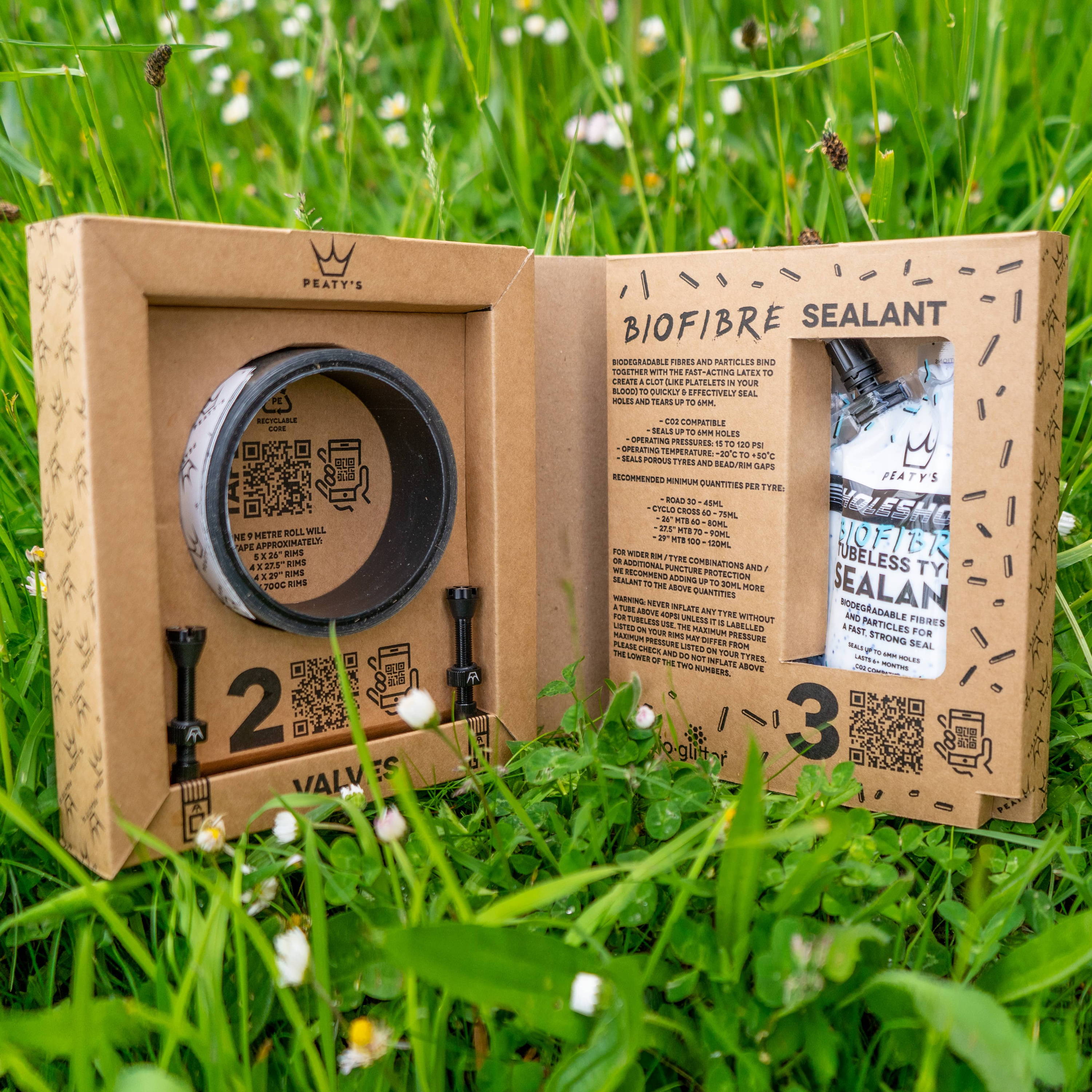 Designed by pro riders, mechanics and scientists, Peaty's Rim Tape has been developed from the ground up as a bicycle rim tape.
Constructed from dual-layered, high tensile strength film & primed with a bespoke adhesive, our tape forms a strong air-tight seal with your rim, yet leaves little to no mess behind when removed! An optimum amount of stretch and large rigid recyclable core allows the tape to be pulled and applied with tension, contouring to your rim tightly for a better fit.
Do you struggle to find the hole? No problem! Just hold your rim up to the light and the tape's transparent finish will illuminate the way.
📦 Peaty's Tubeless Valves
With design, sustainability & quality running right to the core, there's only one company we could work with on our valve colours - Chris King! With our valves for life guarantee and their stunning colourways, your bike is in for a real treat for years to come.

Made from premium lightweight, high strength 7075 aluminium, Peaty's MK2 Tubeless Valves fit most tubeless setups from MTB to road and gravel, including carbon, enduro and DH rims.
Our MK2 valves now come with a WORLD-FIRST SPOKE KEY Presta valve CAP! To use, simply unscrew the cap, slot your spoke through the gap in the top of the cap and slide down the spoke until the cap fits over your spoke nipple.

Our unique x-cut base has been designed to work with all tyre inserts.The channels cut into the base of the valve allow air and sealant to pass through when inserts are pushed up against them. Unlike most other insert-compatible valves, our valves have a 'straight-through' design so there's no reduction of sealant or air flow when tyre inserts are not used.
📦 Tubeless Sealant
Developed alongside World Cup mechanics and world champion racers. Peaty's Holeshot Tubeless Sealant is packed full of biodegradable fibres & sealing particles to give a fast and strong seal.
Using the latest fast-acting latex, our water-based sealant is ammonia-free, non-hazardous and lasts up to 6 months in the tyre in temperate climates. It won't ball up in the tyre and is easily washed out.
Our biodegradable fibres and particles bind together with the fast-acting latex to create a clot (like platelets in your blood) to quickly & effectively seal holes and tears up to 6mm.